embracing new technology to save in production costs
From the costs of electricity to regulatory compliance, it's more expensive than ever to produce a barrel of crude oil. PG&E has ended the E37 rate that many producers enjoyed and simultaneously are forced to purchase expensive sources of electricity to satisfy state regulations. But in these challenges, new opportunities exist.
As the state continues to aggressively combat climate change through programs like the Low Carbon Fuel Standard (LCFS), oil producers have a unique opportunity to lower energy costs and increase revenue. The LCFS program rewards oil producers for investing in renewable energy projects in existing operations. These rewards come in the form of LCFS credits that have real monetary value, while at the same time sending a message to Sacramento that producers are successfully adapting to California's changing policy landscape.
Click here to download a guidebook CIPA created to assist its members.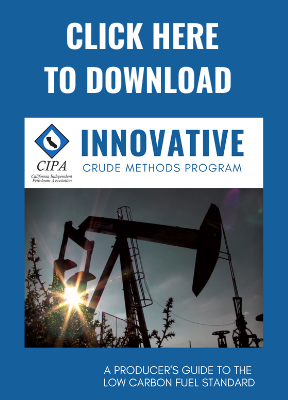 CIPA's Strategic Partners for Innovative Crude Methods:

Energy Edge Consulting offers strategic energy management and renewable energy solutions to a wide range of businesses and institutions. The Energy Edge team has extensive experience in various aspects of the electricity and natural gas industries, and the knowledge and expertise from this experience is leveraged every day to deliver value to clients. Energy Edge provides services in the United States, Canada, the United Kingdom, and Western Europe.
Contact: Josh Sternberg
Mobile: 713.304.5105
Email: jsternberg@energyedgeconsulting.com
---

AEGIS Hedging offers strategic services around Low Carbon Fuel Standard, carbon cap and trade allowances and offsets, CEQA required offsets, emission reduction credits (ERCs) and RECLAIM RTCs. The AEGIS team has over 20 years of experience in the California markets and is able to assist your firm in evaluating all opportunities and risks in the California environmental credit markets.
Contact: Mike Taylor
Mobile: 713.385.3321
Email: mtaylor@aegis-hedging.com
---
Here are some additional resources:
---
For more information, contact Sean Wallentine, Vice President of Government Affairs at 916-447-1177 or sean@cipa.org