AM18 Sponsorship Information
CIPA's 2018 Annual Meeting
June 7-10 -- San Diego, California
Thank you for considering sponsorship of CIPA's Annual Meeting.
With six sponsorship levels to choose from, there is a package to suit the needs of every organization.
Click here to register now for your sponsorship.
NEW *** New Sponsor Benefit for AM18: CIPA Solutions! *** NEW
Click here for detailed information.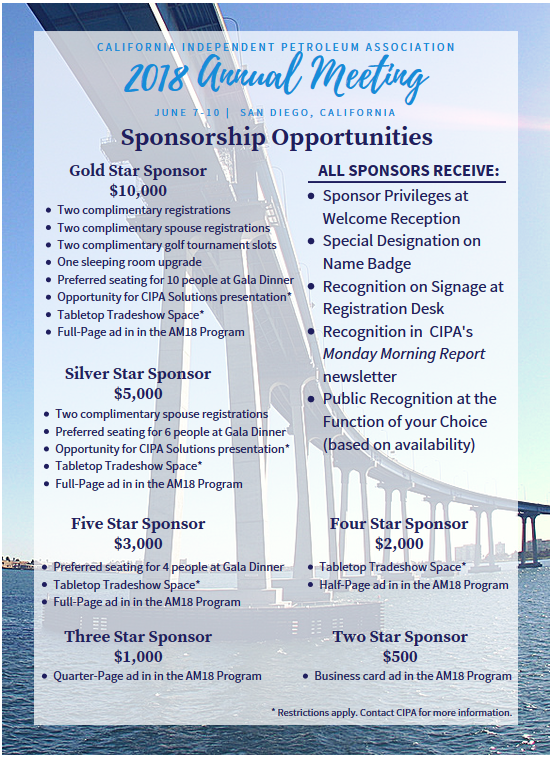 Note: Sponsorship does not include registration to attend the meeting. All participants, including Trade Show exhibitors and CIPA Solutions presenters, must register if they wish to attend. Registration will be available in March.
The deadline for sponsoring AM18 is Wednesday, April 25, 2018. Both payment and ad must be received by this date for the sponsor to be recognized in the printed program.
Trade Show: The tabletop trade show takes place on Saturday, June 9 from 7:30 a.m. to 3:00 p.m., during the General Session. The trade show is in the foyer area outside of the General Session room, with breaks and breakfast served in the trade show area. Each trade show exhibitor gets a 6-foot table and two chairs; other services (such as electricity, internet access, or display monitors) can be arranged through the resort at an additional charge.
Click here for printable sponsorship information.
Click here for a chart comparing the sponsorship benefits.